Have you ever wanted to see the world?
Do you have an interest in learning about other cultures, languages, and areas of the world? Then the University of Maine's travel study courses are the answer for you! With travel study courses, students spend a small amount of time in a traditional classroom environment as they learn about the country or area they will be visiting. Then, they spend the rest of their course time in a fascinating area of the world exploring a whole new culture, eating the local cuisine, and experiencing life as the locals do. By signing up for one of our travel study courses, you will get the chance to learn all about the culture you are most interested in, visit the area, eat the food and do the activities that the natives enjoy. You may even learn a new language as you interact with the people around you.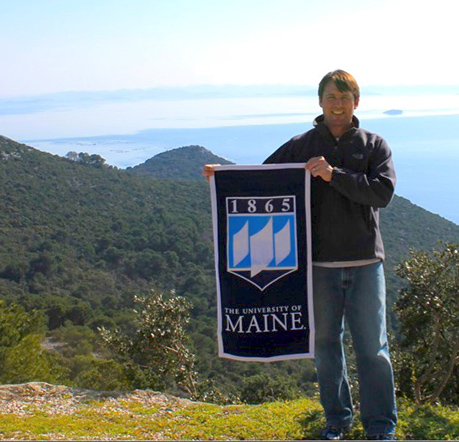 Swan's Island, Maine – Summer 2018 (travel May 20–28)
The College of Education and Human Development offers this unique travel study opportunity on beautiful Swan's Island off the coast of Maine. Students will live, study and take part in community service projects on the island for a week in May. Course readings will be tailored to students' majors and areas of interest. Community service projects also will be individually designed. The class is cross-listed with the following course numbers: EDH462, EHD472, graduate level "Service Learning Practicum" EHD580 and CEC580. For more information contact: Annette Nelligan, Lecturer in Counselor Education at 207.581.2474 or nelligan@maine.edu.
ANT 477: Field Research in Archaeology, Croatia – Summer 2018 (travel May 12–June 10)
This 30-day course will be based in the 3000-year-old Croatian city of Zadar along the Adriatic coast and centered on the nearby archaeological site of Nadin. Students of the course will gain practical experience in standard archaeological methods, as well as an understanding of the scientific application of an archaeological research design to contemporary issues in archaeology. The course offers the added element of a truly international experience, where students will work in the field alongside Croatian archaeology students from the University of Zadar, live and culturally interact within contemporary Croatian cities and towns, and visit a number of archaeological sites and Mediterranean landscapes relevant to the project research design. Although beneficial, prior experience in archaeology is not required, nor is familiarity with Croatian language and culture.
Students will:
commute daily from Zadar to the archaeological site of Nadin, where they will be trained in archaeological methods and research design centered on urbanization, environment, and landscape change in the ancient world
discover the rich cultural heritage of Croatia's past, including visits to neighboring archaeological sites and Mediterranean island landscapes
experience the dynamic and vibrant lifeways of contemporary Croatia
explore the coastal city of Split, with visits to the site of Salona (the former Roman capital of Dalmatia) and the palace structure of the former Roman Emperor Diocletian, around which medieval Split formed  
Please contact: Dr. Gregory Zaro, Associate Professor and Chair of Anthropology at  gregory.zaro@maine.edu or 207.581.1857 for more information including application.
EES 475: Field Studies in Ecology: PERU – Fall 2018 (travel January 6–16, 2019)
Visit one of most diverse regions in the world in the western Amazon rainforest and study sunny South American tropical ecosystems over the cold, dark Maine winter.
Zip-line through the canopy, canoe through flooded forests, swim with pink dolphins, and fish for piranha!
See tropical birds, sloths, orchids, bromeliads, poison dart frogs, insects & much more!
Have close encounters with multiple species of primates, including pygmy marmosets (the world's smallest primate), squirrel, woolly, and owl monkeys.
Please contact: Julie Eubanks at julie.eubanks@maine.edu to receive an application.