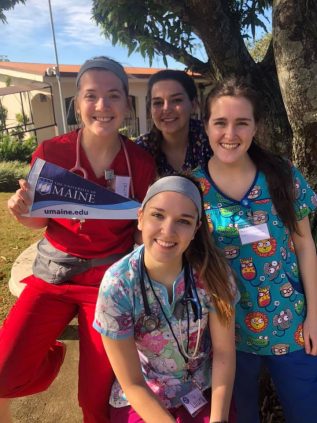 Have you ever wanted to see the world?
Do you have an interest in learning about other cultures, languages, and areas of the world? Then the University of Maine's travel study courses are the answer for you! With travel study courses, students spend a small amount of time in a traditional classroom environment as they learn about the country or area they will be visiting. Then, they spend the rest of their course time in a fascinating area of the world exploring a whole new culture, eating the local cuisine, and experiencing life as the locals do. By signing up for one of our travel study courses, you will get the chance to learn all about the culture you are most interested in, visit the area, eat the food and do the activities that the natives enjoy. You may even learn a new language as you interact with the people around you.
Fall Semester 2019
BIO 309: Sustainability on the Front Lines of Climate Change
Eleuthera Island, The Bahamas
Course description: The sustainable management of ecosystems is essential for the long-term preservation of biological and cultural natural resources. Today, tropical and subtropical countries are experiencing a variety of unique environmental challenges, all compounded by the effects of global climate change, including loss of biological diversity, invasive species, food insecurity and freshwater scarcity, soaring energy production and storage costs, and accumulation of waste. The scientific solutions to these intractable problems lie in interdisciplinary research efforts. This travel study course examines real-world sustainability and conservation challenges and solutions in an ecosystem under stress due to global climate change. 3 credit hours.
For more information contact Dr. Allie Gardner, allison.gardner@maine.edu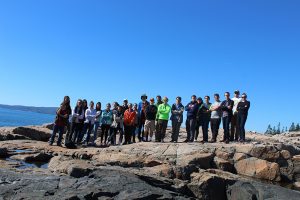 EES 217: Field problems in Ecology & Environmental Sciences (the Acadia Lessons Project)
Winter Harbor, Maine
Course description: This course is an intensive field experience for EES majors. EES undergraduates will stay at a remote site (e.g., Schoodic Education and Research Center at Acadia National Park) for an intensive multi-day program that will immerse them in the rich science and cultural history that makes Maine a living laboratory for environmental issues. Students will be challenged to identify and assess emerging issues in environmental science and natural resources management. Students will be introduced to relevant problems or issues facing stakeholders in the field of ecology and environmental sciences, and will work in teams to research, synthesize, and present what they've learned. The field setting is rich with opportunities for outdoor experience, interactions with scientists in residence, and varied local, regional, and national stakeholders with whom they will collaborate. This course is a required field experience for EES majors.
For more information contact Dr. Kate Ruskin, katharine.ruskin@maine.edu