Have you ever wanted to see the world?
Do you have an interest in learning about other cultures, languages, and areas of the world? Then the University of Maine's travel study courses are the answer for you! With travel study courses, students spend a small amount of time in a traditional classroom environment as they learn about the country or area they will be visiting. Then, they spend the rest of their course time in a fascinating area of the world exploring a whole new culture, eating the local cuisine, and experiencing life as the locals do. By signing up for one of our travel study courses, you will get the chance to learn all about the culture you are most interested in, visit the area, eat the food and do the activities that the natives enjoy. You may even learn a new language as you interact with the people around you.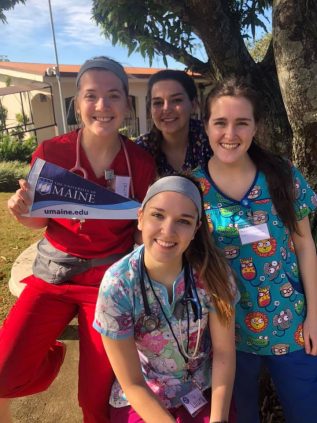 INT489: Experiences in Culture, Healthcare and Business in Germany – Spring 2019 (Travel May 11–18, 2019)
This interdisciplinary travel study course will focus on the cultural and economic influences on life and business in Germany as compared to the United States. The course is offered in partnership with Aalen University in Stuttgart, Germany.
Open to all students
No prerequisites
Fulfills cultural diversity & international perspectives general education requirement
Course fee is $2,500 + 3 credits tuition
Please contact course instructors: Scott Dunning at dunning@maine.edu or 207.735.7889 or Stephanie Welcomer at welcomer@maine.edu or 207.581.1931
CHF 404: Human Sexuality in Europe – Spring 2019 (travel May 12–30, 2019)
This three-week travel study program provides students with a broad international perspective on how other cultures deal with sexual and reproductive health issues.
We will visit sites in London, England, Amsterdam, The Netherlands, and Stockholm, Sweden and compare how these countries deal with issues such as teen pregnancy, contraception, abortion, sexuality education, and public policy issues related to HIV/AIDS, sexual orientation and prostitution.
Please contact: Sandra Caron, Professor of Family Relations/Human Sexuality, 207.581.3138 or scaron@maine.edu for an application.
Digital Ethnography Field School – May Session 2019 (May 15–31, travel May 22–24, 2019)
This course is designed to give students first-hand experience with the process of designing and conducting qualitative ethnographic field research. Based here in Maine to ensure broad and affordable participation, the course will enable students to contribute to a research project "Exploring Maine's Culture of Reuse." Through the process, students will gain experience with research design, human subjects review, sampling methodologies, and a wide array of ethnographic research techniques including participant observation, interviews, oral histories and semi-structured questionnaires. Students will also get an introduction to digital ethnography, qualitative data analysis and data management strategies.
Apply online: tinyurl.com/reusefieldschool
For more information please contact: Cindy Isenhour, cynthia.isenhour@maine.edu or Kreg Ettenger, kreg.ettenger@maine.edu or visit umaine.edu/anthropology/field-school-opportunities
The Geometry of Starlight – May Session 2019 (May 14–June 1, travel to the Bahamas May 21–June 1, 2019)
We will explore the deep and ancient connections between plane geometry and our visual experience of the sky. We will ask and answer natural questions that have been part of humankind's shared experience of wondering about the sky for millennia. The travel portion of the course will take place at the Island School (www.islandschool.org), a place-based academy on Eleuthera Island in the Bahamas.
For more information contact: Dr. Justin Dimmel, justin.dimmel@maine.edu
ANT477: Introduction to Archaeological Field Techniques– Summer 2019 (Travel May 20–June 14, 2019)
This course provides students with intensive training in archaeological site survey, excavation techniques, record keeping and analysis of archaeological materials. This year's field school will take place at a coastal archaeology site near Machias, Maine from May 20–June 14, 2019. The site selected for this year's research is a shell midden containing a cultural and paleoenvironmental record spanning roughly 3,000 years. The field school is conducted in cooperation with the Passamaquoddy Tribal Historic Preservation Office and focuses on exploration of past Indigenous lifeways as well as the early occupation of the area by the French and English in the 1600's. The Maine Coastal Archaeology Field School is funded by a prestigious MAPI (Maine Academic Prominence Initiative) grant which covers 3 credits of in-state undergraduate tuition, room and board (Monday through Friday), and transportation to the field site. Maximum course capacity is 12 students and participants will be selected through an application process. Applications are available at umaine.edu/anthropology/summer-2019-coastal-maine-archaeology-field-school.
Please contact: Professor Bonnie Newsom at bonnie.newsom@maine.edu or 207.581.2174.
INT495: Experiencing Incan History and Architecture in the Present – Spring 2019 (Travel May 21–30, 2019)
Have you ever wanted to visit Peru or tour some of the famous Incan ruins such as the UNESCO World Heritage Site known as Machu Picchu? Register for this travel study opportunity to visit Peru and learn Incan history.
Open to all students
No prerequisites
Fulfills cultural diversity & international perspectives general education requirement
Course fee is $3,275 + 3 credits tuition
Please contact: Professor Scott Dunning at dunning@maine.edu or 207.735.7889